If something around the house breaks, it has to be taken care of if you want your home to remain in top shape. Some things can be fixed with some pliers and a screwdriver, but you need a serious tool for more serious issues. 
(Photo credits by Rodrigo of @rr_fab)
A welding machine, more precisely a MIG welder, has to be a part of your fixing arsenal. You can't go without one as it is almost guaranteed that it will resolve half of your problems that you happen to have.
YesWelder offers various MIG welding machines that suit different work demands and sit at different price points. That way we are trying to offer proper value for you, our customer.
(Photo credits by Alex of @alexwelds)
You shouldn't buy a machine that is overly expensive and meant for heavy work if you will be using it for house repairs, DIY welding work, welding art or regular welding shop work. 
On the other hand, if you need a powerful machine for more serious work, you will need a reliable MIG welder that offers advanced features to complete your work without any sacrifice in quality. 
(Photo credits by Alex of @alexwelds)
Here at YesWelder, we are doing our best to offer our welders the best quality-price ratio. That way you don't have to spend a ton of money in order to get a quality machine that suits your needs.
Now let's learn a bit about MIG welding before we proceed to machines.
What Is MIG Welding
(Photo credits by @derik_thoma)
Metal Inert Gas welding, or MIG for short, is an arc welding process involving a continuous solid wire that serves as added material and electrode. The MIG wire is fed to the weld pool with the help of a welding gun. The joint is then created after the two base materials are melted together with the use of an electric arc. The weld gun also serves another purpose — providing the solid wire gas MIG shielding gas to the weld pool in order to protect it from atmospheric contamination while welding. 
(Photo credits by @derik_thoma)
With the discovery of the electric arc in the 19th century, there came MIG welding too. Initially, carbon electrodes were used after a switch was made to metal rods. However, the official start of MIG welding is considered to be 1948, when the Batelle Memorial Institute created the process. Initially, it enabled short-circuiting transfer, supported all welding positions, and required lower heat levels for welding thinner materials. 
(Photo credits by Jason of @migmaster537)
Over the years, GMAW developed into one of the most popular welding methods for industrial use. You will mostly see it being used for welding sheet metal and, naturally, in the automotive industry. 
It is a process not suitable for outdoor welding because strong gusts of wind can disrupt the shielding gas. Nonetheless, it is perfect for indoor use and fixing things around the house. That is why having a MIG welder at hand is really valuable as it can help you fix your fence, a bike chain, or do some repairs on your car. YesWelder MIG welders are more than suitable for home use and can prove to be of great value, particularly for a DIY welder or a hobbyist.
YesWelder MIG Welders Collection
Our welding equipment stands out on the welder market the most when it comes to quality and price. We strive to offer the best quality and customer service while staying in the affordable lane.
(Photo credits by @the_bearded_jeeper)
Our machines have many useful features that will help in your work, like Synergic MIG control that automatically calculates and adjusts the wire feed speed and voltage based on the set amperage. You can always use the manual mode as well. Some of the other useful features are 2T/4T, hot start, setting the value of inductance, burn back time, multiple wire diameters, the ability to change the voltage on micro and macro levels, and many others. Moreover, they can also be used for stick and light TIG welding.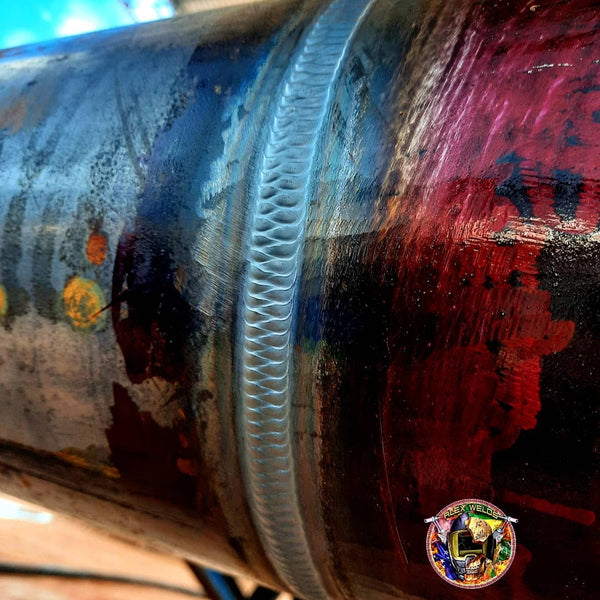 (Photo credits by Alex of @alexwelds)
You may not need all of the features our welders provide.
In addition, we are in a vast number of cases better priced than other welding gear brands.
We love to provide our customers with as many features as we can. You never know when your work might need some fine-tuning adjustments on your machine.
Let's see this in practice now. These are our top MIG welders. Each of them is meant for different use cases and magnitudes of work.
MIG/Stick/TIG Multi-Process Welder MIG-205DS | 3 in 1 Welding Machine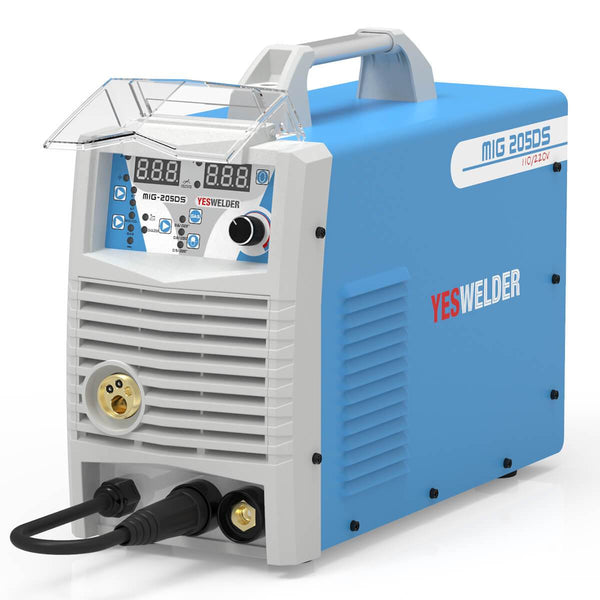 This is one of our best-selling machines.
If you are a DIY welder or your welding shop doesn't do heavy welding, then you should consider our MIG-205DDS MIG welder. Well, more like MIG, TIG, and Stick, but with the emphasis on the MIG process.
It has a maximum power output of 200A, which is more than enough for regular welding work. Furthermore, the 60% duty cycle will have you welding without taking big breaks.
We packed multiple features in it. It supports synergic control, handles welding wire of up to 0.9mm (0.035") for both the MIG wire and flux core gasless welding wire, it offers both 2T for simple work and 4T for prolonged and continuous forms of welding, allows for a quick switch among MIG, TIG and Stick welding processes and handles 2lb or 10lb wire rolls.
This is a portable welder. It is lightweight and works with 220V and 110V inputs. 
It comes with a MIG and Stick gear while the TIG torch is purchased separately. The TIG process works on DC only. Great for stainless steel, but not meant for working with aluminum.
MIG Welder 250A MIG Pro Aluminum Welding Machine | YesWelder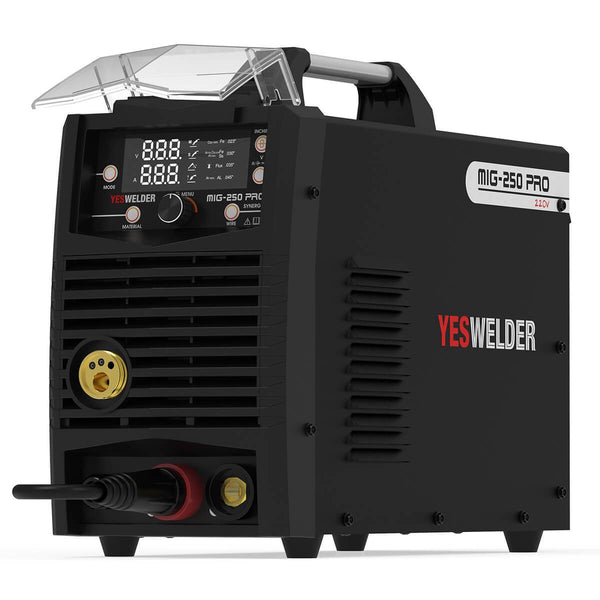 Now let's see our more serious MIG machine meant for an even wider scope of work.
Our 250A MIG Pro is meant for working with steel, stainless steel, and it is also capable of MIG welding aluminum. 
Just like the MIG-205DS, this is also a 3in1 welder as it does MIG, TIG, and Stick welding. It has Synergic and manual MIG modes, dynamic arc control, and wide support for welding wire. It supports .023"/.030"/.035" solid/SS wire, .035"/.045" aluminum wire, and .023"/.030"/.035" flux core wire. 
(Photo credits by @shoptoolreviews)
It outputs 250A of welding power because it is meant for more serious work. A welding shop that does thick steel or aluminum welding should consider the MIG 250 Pro or anyone who needs a high-power output.
A spool gun is purchased separately. This reduces the cost of the machine for those who are not immediately interested in aluminum welding. TIG torch is also sold separately because the main focus of this machine is advanced MIG welding.
(Photo credits by @shoptoolreviews)
270Amp Wide Voltage Multi-Process Welder | MIG-270K Spool Gun Compatible Welder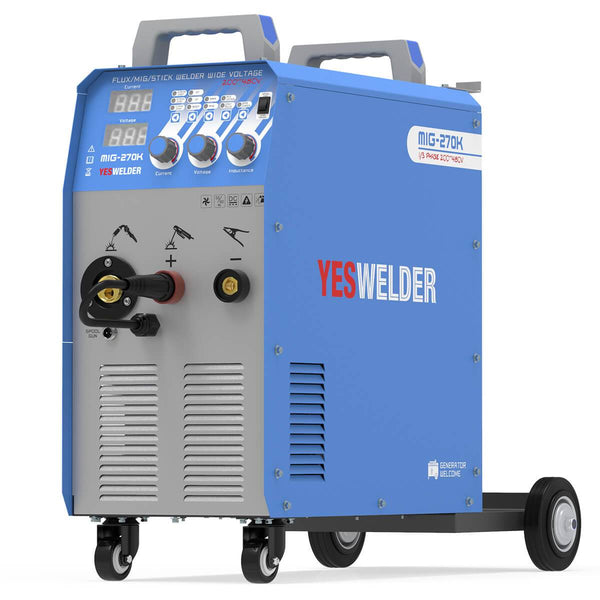 This is one of the most powerful welders we sell.
It is a multi-process welder with a focus on MIG welding that has an output of 270A at its maximum with advanced features. It is meant for more serious work, for welding shops that often weld thick sections that require an advanced approach, and for DIY welders and hobbyists if they really need this much output power or any of its advanced features.
This machine has a stable arc that is capable of welding thin or thick steel with ease and precision. The 270A output will weld up to 3/8" thick steel without issues.
(Photo credits by Ivan of @uniquemetalartz)
It has a dedicated spot welder built-in which significantly eases the work on projects. It is a timer-based spot welder that allows for exact perfect spot welds. It makes work on automotive projects easier.
It has abilities for the fine-tuning of your settings on the digital display and using the infinite adjustment knobs. You can manually set voltage, amperage, wire feed speed, and other settings. It uses welding wires in a wide range of 0.030" to 0.039" and can accommodate 8", 10", and 12" wire reels.
It comes with the spool gun for MIG welding aluminum, but the TIG torch is sold separately.
(Photo credits by Ivan of @uniquemetalartz)
Summary
This was a small preview of our MIG welding line-up.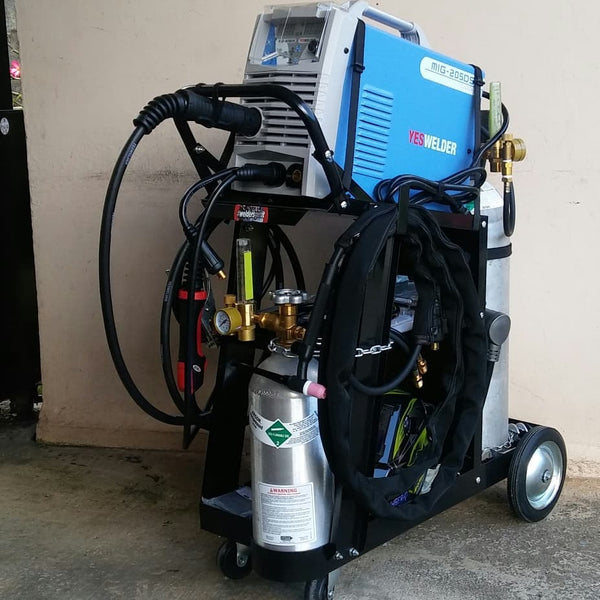 (Photo credit by Don of @don_toycoma98)
As you can see, you can pick based on your budget and needs. We are trying to make your choices as versatile as possible while also trying to keep the prices as low as possible. The reality is that welding machines are often overpriced, and we are trying to provide the best quality that we can for the great price that we are known for.
Additionally, we do our best to meet our customers' needs. You are eligible for our 30-day return policy if there is anything wrong with the machine or in case you are not satisfied with it. We will offer guidance and help and try to find a compromise that works for both sides.
(Photo credits by Alex of @alexwelds)
If there is anything wrong with the machine or damage occurs during transport, we will be there to help and send you spare parts or work with you on fixing it. 
We truly want to push the boundaries in the welder world further. You deserve to have quality equipment with a reasonable price and sellers that care and offer quality customer support.
3 comments
---